The first of 5 articles about Beyoncè from FremannTV
A recent SNL skit featured "The Beygency" who are a "Men-in-Black" type secret agency dedicated to eradicating all dissent against Beyoncé…and what did Queen Bey think of the satire? "Haaaaaaaaaaaa" the singer posted on Instagram, along with an image from the sketch. On September 4th, 2014, comedian and gossip queen, Joan Rivers, died on the same day as Beyoncé's 33rd birthday. One of Rivers' last tweets was a dis to Beyoncé's current family troubles. "A man reportedly got his finger bitten off at a Beyonce concert! The shocking twist: It wasn't Jay Z's finger and it wasn't by Solange." In one of Rivers' last interviews she dishes the dirt towards President Obama as well, calling him gay and the first lady, a transgender.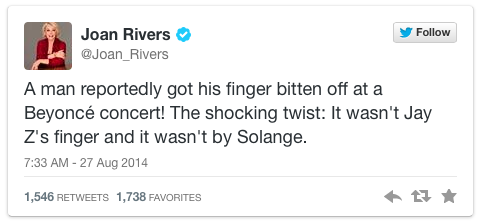 Move over Madonna, there's a new high priestess in town! No one can argue that Beyoncé is the hottest star on the planet and the reigning Monarch of pop goes by the moniker Queen 'B'. The Queen was born in 1981 and this was no rags to riches story. Beyoncé grew up much like Britney Spears in the culture of beauty pageants and child performers in Houston, Texas. The Knowleses did quite well and lived in a six-bedroom house in Houston's fashionable Third Ward among other upper-middle-class black families. They went to church on Sundays and sometimes gathered around the piano to sing while Dad played. Beyoncé's childhood did, however, have a Michael Jackson flavor where both of their fathers pushed them very hard to succeed to the point that their youth was lost.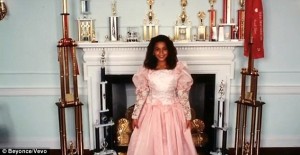 It wasn't immediately
apparent to her parents that their daughter was an entertainment prodigy. In fact, they say, when Beyoncé was a child, she was so shy she would walk into a room and try to be invisible. But she loved to dance, so her parents put her in a dance class, hoping she'd make some friends. Onstage, Beyoncé was so outgoing and self-assured her parents were shocked. Young Beyoncé soon won a Sammy Davis Jr. (famous Satanist) Award, or "Sammy", at a citywide talent show. In a video from the event, Beyoncé, wearing a blue sequined dress similar to Dorothy's in The Wizard of Oz, (classic Monarch programming motif) stepped carefully sideways, left and then right, as she sings "Home" from the musical The Wiz.
Beyoncé's father, Mathew Knowles, was a very driven and controlling person who insiders confess always played his daughter as his trump card. It's not by accident that their first hits like "Independent Women" and "Survivor", were female-based empowerment songs. Their image and message was meticulously crafted by Mathew who I suspect was getting orders from higher up to eventually make Beyoncé the spokesperson for feminism. Mathew managed the four girl group called, Destiny's Child, which included his daughter. The name of the band was supposedly inspired from a scripture found by Beyoncé's mother. Tina pulled out a Bible and found the word "destiny", and Mathew added "child."
In 1999 the group landed a spot on tour with hip hop giants of the time, TLC, and released their first hit single, "No, No, No". Mathew Knowles wanted full custody of all four girls of Destiny's Child, but two of them wanted to hire other managers and were swiftly dispatched from the group for proposing the idea. The remaining band member, Kelly Rowland, stayed on and continued to live with the Knowleses as a family member. The group split was heart breaking for Beyoncé, and she reported it was the worst thing that had ever happened to her up until that time. In 2001, Beyoncé emerged as the unquestioned leader of the new Destiny's Child with the new third member, Michelle Williams. The release of "Survivor" debuted at number one on the Billboard chart. The album, on which Beyoncé produced or wrote almost every song, could have been called "More Songs about Feminism," with tracks like "Independent Women, Part 1 &2," and "Bootylicious". Just as TLC was forced to push the "safe sex" agenda in popular culture, Beyoncé wrote songs of female empowerment because her father told her to. "…she recently told People, 'We talk about being independent, being strong, and taking care of ourselves, but we want to be domestic.' Beyoncé is, in her father's words, selling a product, treating the making and selling of music like the making and selling of soft drinks, tailoring the business to what she and her father think the customers want and then trying to reach as many of them as possible. It's bad, ultimately, for music. But it's good for business."1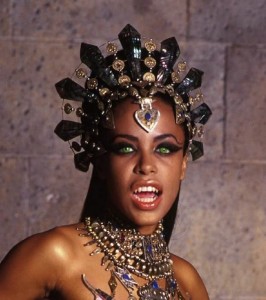 Before Beyoncé and Jay-Z got together, Jay-Z was dating Aaliyah who was friends with Beyoncé. This was before Aaliyah was romantically involved with Dame Dash and she is said to be the reason for the falling out between Dash and Jay-Z. Aaliyah died in 2001 during the filming of the movie Queen of the Damned. At the time of her death she was engaged to marry Dame Dash, had a hit album, and was set to star in the remaining Matrix movies which would have made her even more famous. On the way home from shooting the video for "Rock the Boat" her plane crashed. In the film Queen of the Damned her character's name was Akasha, which is very similar to Beyoncé's alter ego, Sasha. A very interesting character indeed, Akasha was the first of all vampires from Iraq. The fact that she was led to play such an evil character could be a foreshadowing of her sacrifice. Many Illuminati top-level slaves are made to play demonic parts in movies and then based on what they are willing to do, they are either promoted or sacrificed in the end. Looking at the opportunities she was being given, in both music and film, it is safe to say that certain things were expected of her that maybe she was unwilling to fulfill and had to be eliminated.
Sadly, in 2002, Lisa "Left Eye" Lopes of TLC also died under mysterious circumstances in a car accident in South America. An eye-opening documentary called The Last Days of Left Eye, shot over the last month of her life, reveals Lopes had all the classic red flags of Monarch programming. Her father was in the military and ran the household in typical boot camp fashion. When her family had hardships, she went to live with her paternal grandmother, whom she describes as just like the abusive character in Mommy Dearest. In her last days she was at a retreat in Honduras with a few friends and family cleansing, detoxing, meditating, exercising and most importantly, filming. Her confessions were very candid, revealing that she had at least three different personalities: Nicki who comes out when she is drunk, the personality she doesn't name that she created to mediate between Lisa and Nicki; and Nina, her evil twin. During her confessions it becomes apparent that she was very understanding, caring, and spiritual. Her simple insights into the cycle of abuse showed much wisdom. Towards the end of the trip, Lisa began to have nightmares of the sun getting bigger and bigger and coming for her. Days before her death, Lisa's fears were intensified when her car accidentally hit a young boy who dies of head injuries soon after. Lopes is convinced that "the spirits" had it wrong and were actually out to take her life. The fact that the boy's last name was Lopez is a chilling synchronicity.
On her last day, with only a few days of filming left, she gets the crew together for a trip to the waterfalls to discuss important topics as she feels they have only scratched the surface of her issues. In her last scene, she is driving with nine other passengers and holds a Coca Cola memorabilia box. The expression on her face and the feeling the audience gets is this item holds an important memory for her which will be revealed soon. We will never know about the box however, because, as she passes it to her friend, according to other passengers in Lisa's automobile, the car in front of them stopped suddenly, causing Lisa to swerve around, but there was another vehicle heading towards them in the opposite direction. To avoid a head-on collision, Lopes swerved all the way off the road. The vehicle rolled several times after hitting two trees, throwing Lopes and three others out of the windows. Out of the ten souls on board that day, Lisa was the only one to pass on.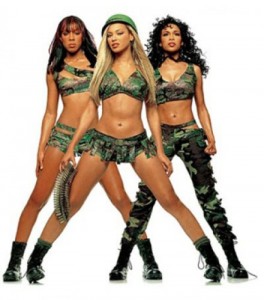 At the height of their popularity, TLC was the best-selling female group of all time. With Lisa gone and T-Boz battling sickle cell anemia and later a brain tumor, TLC was history. One super star catches fire while two others are extinguished. These tragedies paved the way for the new wave of hip hop that was destined to be, a new moon child for the masses with a budding monarch to lead the way.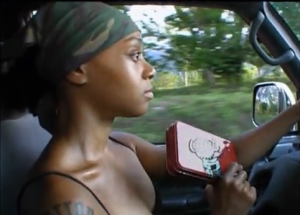 "I see the invisible spirits, walkin' along the physical mind
Of a crazy individual?
Where demons still find it livable?
I need a hug to hold my soul inside my body?
I got the secret here?
Yeah, I should have told somebody?'
Cause ever since I've been sayin' things I never meant
It's like I was speakin' in tongues, the black breath in my lungs?
I won't allow it…
My destiny to overthrow?
Those on top of me fiendin' for currency"
–from the song "Untouchable" by Lisa "Left Eye" ft. Tupac Shakur
– See more at: http://freemantv.com/queen-b-beyonce-beginning/#sthash.yyuiejWR.dpuf